---
Parade Information
---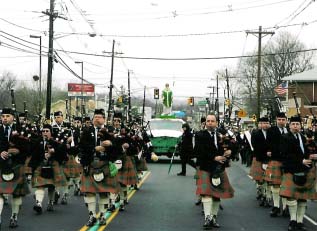 The 2023 Parade was held on Saturday,
March 11, 2023.

9:00 AM
The Thornstick Mass will start the day, and be hosted in conjunction with the Elizabeth A.O.H. at St. Patrick's Church in Elizabeth.

12:00 Noon
The Reviewing Stand Festivities at Morris and Stuyvesant Avenues in Union begin. Enjoy the "Kid's Zone", fun for all ages on Stuyvesant Ave. (just off Morris Ave.)

1:00 PM Sharp
The Parade begins with the Marching units gathered on Morris Avenue and along Commerce and Jeanette Avenues. The parade route proceeds east along Morris Avenue to a turn at the Main Reviewing Stand at Stuyvesant Ave. and ends at Roosevelt Avenue.

The Midway Reviewing Stand at Morris and Caldwell Avenues has parade announcers with details of all of the participants, history and other information. It's a great place to watch the parade!
---
Union County St. Patrick's Day Parade
2023 General Chairperson
Mike Capko
---
2023 Grand Marshal
Joseph Cryan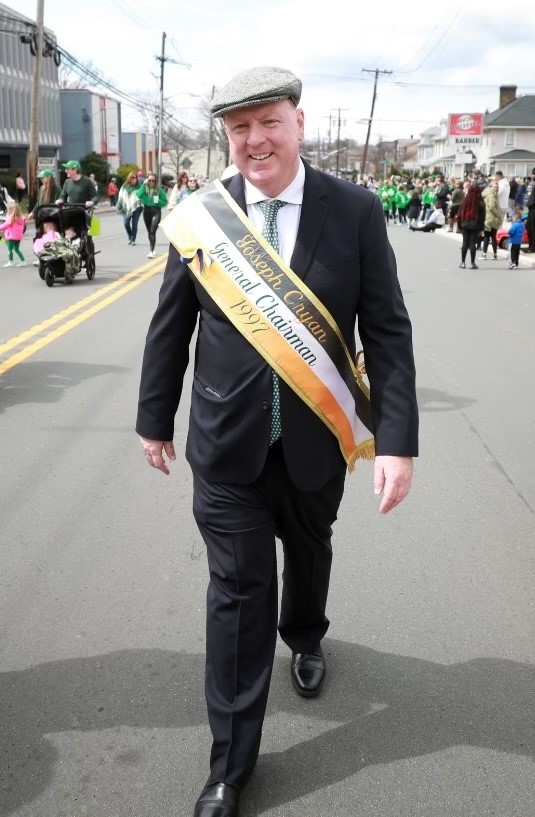 Born in East Orange NJ, and raised in the Vailsburg section of Newark, Joe was raised Irish.
His father, John, hailed from Castlerea, County Roscommon, Ireland, and his maternal grandparents,
John and Anne, both emigrated from County Donegal, Ireland. Joe's mother, Mary, was proud of her
Donegal heritage and tried valiantly to make sure her children knew there was more to Ireland and
their heritage than just Roscommon. Along with John's successful political career, the family
business was bars and restaurants with a welcolme feel and an Irish theme. The Newark Saint Patrick's
Day Parade and the Cryan Association, along with Sacred Heart Church, were family foundations growing
up. Being raised Irish meant hard work, understanding the value of an education, and looking out for the
other guy. These are foundations that continue to guide Joe today.

Joe was elected to the New Jersey Senate representing Legislative District 20 (Elizabeth, Union, Roselle,
and Hillside) in 2017. He represented District 20, from 2001 to 2015 in the state's General Assembly and
was elected Sheriff of Union County for a three year term in 2014. During his time in the Assembly,
he served as the Majority Leader and chaired or served on over a dozen committees, as well as holding
the role of Chair for the New Jersey Democratic State Committee from 2006-2010. Senator Cryan currently
chairs the Military and Veterans Affairs committee and co-chairs the committee on Joint Public Schools.

Joe continues to honor his heritage. He was a founding member of the Irish American Society of Union,
the first general chairman of the Union County Saint Patrick's Parade, and has been the standard bearer
of the Cryan Association for the past two decades. Joe had the honor of being the grand marshal of the
Woodbridge Saint Patrick's Day Parade in 2001. He has been recognized by many Irish civic groups, and
values the work so many do to keep the Irish heritage alive for the next generation.

Joe currently serves as the Executive Director for the Middlesex County Utilities Authority. He and his
wife Kathy, live in Union with Scout, their spoiled dog. Kathy and Joe share one son, John, and three
daughters, Megan, Hannah and Katie. They have five grandchildren, Liam, Landon, Jordan, MacKenzie,
and Harper, and are excited to welcome a sixth one soon.

---